The Trade Unionist and Socialist Coalition says:
No to Cuts and Privatisation!
Make the Bosses Pay!
Latest News
Friday 2 May 2014
RMT and FBU strikers stand for TUSC in local elections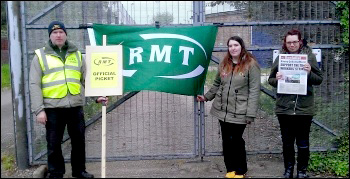 Chris Rice (on left), RMT picket and Havering TUSC candidate
Unlike the establishment parties and UKIP, the Trade Unionist and Socialist Coalition (TUSC) fully supports trade unionists taking strike action to defend their jobs, pay and conditions. TUSC, standing 560 candidates in the local elections (nearly one in seven seats), supports the strikes of the RMT transport union and the Fire Brigade Union (FBU) taking place over the next week.
RMT members on the London Underground took 48 hours of strike action this week and will strike for a further 72 hours next week. They are protesting against ticket office closures and job losses.
Len Rowlands, RMT picket, Whitechapel station
One of the striking RMT members who normally works at Whitechapel, Len Rowlands, (see picture) is standing for TUSC in St Peter's ward, right next to the tube station. He is one of over 50 RMT members standing under the TUSC umbrella across the country. TUSC was building support for the election campaign by saying to passers-by, "who would you rather have in the council, a trade unionist like Len who stands up and fights the cuts, or a career politician?"
At Acton, four of the five TUSC RMT candidates standing in Hillingdon were on the picket line.
FBU members will be taking strike action over the bank holiday weekend to prevent attacks on firefighters' pensions and retirement age.
Pickets and supporters at Victoria, with TUSC candidate Arzoo second from left
FBU members standing for TUSC include the North East Area secretary of the FBU, Tim Roedel and the former chair of the Warwickshire brigade, Steve Roberts.
TUSC is the only party that is fielding striking workers in the elections this year, including Care UK workers in Doncaster who have taken 20 days of industrial action against a 35% pay cut.
---